First off, I'd like to thank Zwei Fuss for ripping the animations which I am using for examples in this particular section of the study.
While it may seem odd that I would include a Capcom specific section within a study of sorts that covers my personal animation process, there's a perfectly good reason for this: it's not a farfetched thing to say that I basically grew up on Capcom titles with a big emphasis on their fighting game franchises. Remember the photograph of all those art books? That wasn't a random picture borrowed from some foreign site, but taken straight from my own collection which has only grown since that point. Considering the amount of time being exposed to games from this company, it really should be to no one's surprise that my own personal work tends to borrow a lot from these earlier titles with a few other influences worked in to complement what my general style consists of at this point.
Before Capcom's now virtually exclusive use of 3D models in their fighting game titles, they used to make use of more classical animation practices. The basic line work for character frames were individually drawn by hand and then later scanned in and finished up digitally. Unfortunately, it's quite difficult to come across to many examples showing these early bits of line work: aside from some of the samples I recall bringing up in the CPS2 study as well as a few loose examples shown for the Street Fighter 3 series within the Japan only Capcom Secret Files booklets, there is not much of the early stage to look at.
Fortunately with the advent of programs such as Artmoney and Cheat Engine, it became possible to playback and record / capture the individual finished frames from the games themselves. From the looks of things, Capcom really did love to use certain animation techniques and found creative ways to take advantage of both classic techniques and the frame count, particularly in CPS3 era titles, to take a few shortcuts along the way.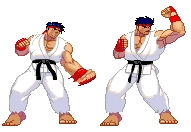 Take Ryu's close fierce punch for example. Viewing the whole animation, it does look fairly smooth overall, as do most of the animations from this series. Of course, it's when you start looking at things on a frame by frame basis that things really get interesting. The first picked frame is the transition frame between Ryu's punch being wound up to now reaching the attack frames; the forearm and hand are deliberately made wider and unfocused to give the suggestion of blurring due to movement speed. Capcom tends to handle what are supposed to be quick attacks often in this fashion or by literal use of speed lines as can be seen within the air medium punch right afterward. I'll be covering it moreso in a proper CPS3 review, but do take notice how on that secondary still his arm and chest have very rudementary shading compared to other frames. Part of the reason suspected for this is that as you wouldn't be seeing these frames for a very long time, they could skip over the detail work of shading. Heck, his fingers on the punching hand are basically just outlines filled in!


Makoto's use of motion blur is a tad different from Ryu's in that it tends to actually be more extreme in its uses. I'd actually say the application here would be a bit more in line with the more exaggerated use in the Vampire / Darkstalkers series of games. Still looks fairly smooth, but when you get to the still frames? The transition from one position to the next tends to actually be really abrupt.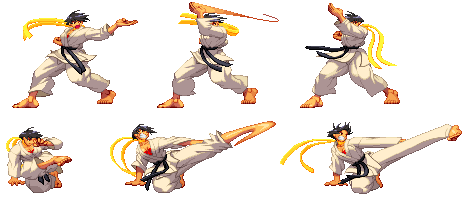 These 3 frames sequences from both of the above attacks were not just randomly picked, but are in fact each in sequence. What that means is that during the standing fierce punch, the sudden transition from her arm still being extended outward to blocking our view is done in a single frame and disguised by a gradient based blur effect to suggest it was a very fast chopping motion. For the crouching kick, not only was that kick fast, it was so fast that visually the foot not only blurs but in fact visually warps into a nondescript form until it returns to a slow enough speed that we can comprehend the details of it again. (Also, until the rest of that pant leg catches up. Hah!)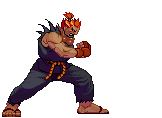 Gouki's fierce punch doesn't feature any motion blur, but does do something interesting in order to give the attack a bit more visual kick in a way that you may not even notice unless you are really looking. As the punch reaches its attacking frames, it makes use of the stretch and squash technique to give the attack a bit extra range by visually stretching Gouki out. Rather than just making his arm longer though, it actually makes use of a single tick long frame where he hyper extends himself before reverting to a more normal position. The only way you might see this frame is if you are really paying attention just as he makes contact.

In terms of the recovery frames for this attack, a number of them are literally the same two frames recycled in order to pad the animation a bit while giving the suggestion of a greater force behind the punch. Not a new technique by far, but still gives a decent bang for the buck in terms of visuals.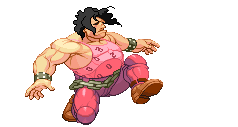 While I could probably grab a number of different animations to prove my point, Hugo's sprite set actually recycles a number of frames of his actual body and pad that number by having the chain belt bounce around a bit extra to give a greater sense of fluidity. Another common trait in his sprite set is that during the actual contact frames, his hair will suddenly flare and spike outward before returning to a more relaxed state of movement.