Note: First thing to note is that due to an oversight when setting up the gifs used for this section, the palette entries on the individual frames have skewed values that do not reflect the findings.
As previously stated before, the CPS2 hardware is stated as having capabilities for a 32 bit palette. I suspect if this is the case, then they actively chose not to make full use of it. The max color on screen limit of 4096, which if multiplied by 16 equals 65536, the maximum limit available for a 16 bit palette. Considering my findings, I'm actually more inclined to believe that the fighting games using this style are all running only on 16 bit palettes.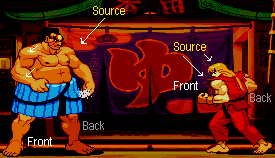 Of Light and Shadow - CPS2 Remix:
Here's a cropped image capture from SFZ3, a shot of Honda and Ken during their intro sequences. The second image plays with the brightness and contrast to emphasis the light source on each of the sprites. I understand I've already gone over the location of the light source, but this image shows both the rule in action along with some exceptions that occur. The nature of how illuminated any given part of a sprite is depends on two things: How well it lines up with the light source, and how close or far away it is from the player's view.
On Honda's right arm, the upper part of his shoulder as well as his forearm are clearly lit as they are well within the view of the light source, while the bicep is in shadow as it is tucked inward and away from the source. Honda's stomach is an exception though, which I cannot think of a clear reason why except to keep it visually similar to many of his other sprites where he is more hunched over and the added shadow is justified.
Regarding the second rule of lighting, limbs that are closer to the screen will receive more lighting than items further back in order to emphasize spatial distance. Honda's legs and Ken's arms work as examples of this. Ken's arms are more obvious examples, as his upper torso is clearly in front of his right arm making it illogical to give that arm the same bright shading as his left. Honda's legs would be more subtle in nature as there is no clear obstruction to indicate where they are posed. Therefore, his left leg is given a heavier set of shadows to show it is not on the same plane but further back. The same can be said for Honda's shoulders: his right shoulder has an extra light shade used as a highlight.
The magic number is... 16? (Update: Or 17. 17 works too: See footnote)
I knew that Capcom really loved sticking to the 16 color limit for this style, but this number is reoccurring in too many places to be a coincidence. For the RGB values of all the sprites I have checked so far, they all share the same characteristic of having values that are multiples of 16. Also, the changes from one palette entry to another are also multiples of 16 each time.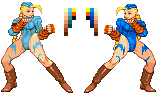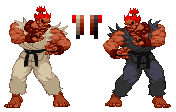 These first two examples of this quirk are taken from Street Fighter Zero 3: Cammy uses a full compliment of 16 colors, while Gouki clocks in at only 14, and technically his p1 color only has 13 unique colors. Both are using their Z-ISM palette entries. To elaborate on what I meant regarding the changes in value, I jotted down some notes from when I was initially trying to see if the palettes were actually entirely automated at some point. For these cases, I am starting from the lightest to darkest shades of Gouki's p1 and p2 gi colors and Cammy's leotard. The reason I chose these items are because both use the same number of overall palette entries which make them a fair comparison point.
[Update] Actually, I may have found evidence that Gouki's sprites may in fact make use of the full 16 color limit. His V-ISM palettes appear to make full use of these colors, whereas his Z-ISM palettes do not.
p1 Gouki gi:
R changes    G Changes    B changes
64-48=16     64-48=16     80-48=32
48-32=16     48-32=16     48-32=16
32-16=16     32-16=16     32-16=16
16-0=16      16-0=16      16-0=16 
p2 Gouki gi:
R changes    G Changes    B changes  
208-176=32   192-160=32   160-128=16
176-160=16   160-128=16   128-112=16
160-128=32   128-96=32    112-80=32
128-96=32    96-80=16     80-64=16

p1 Cammy leotard
R changes    G Changes    B Changes 
96-96=0      192-160=32   240-192=48
96-64=32     160-128=32   192-144=48
64-32=32     128-96=32    144-96=48
32-0=32      96-64=32     96-64=32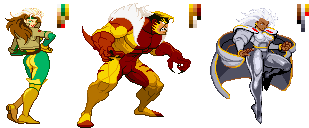 To ensure that this was not a game specific quirk, I checked for similar RGB values within other games utilizing this style such as X-Men COTA and the VS entries. I found that the same trend could be found in those titles too. One possible explanation given to me as to why this pattern exists is that it could have been for optimization purposes: a way for Capcom to streamline their palettes.
Never Use a Pure Black Except for Very Rare Occasions:
Considering the logic around the overall color selection above, it actually makes sense that it would be fairly uncommon to see any sprite using 0,0,0 except for in very sparse use. Not only does it deviate from the pattern, but there's a decent chance that the background makes use of that color, which would make it harder to see if a sprite made use of that pure black extensively. Even in the case of a character who is effectively a silhouette like Blackheart, Capcom has opted keep the colors just above the darkest possible shade by picking something along the lines of 8,8,8 or 16,16,16 to give enough of a visual pop so that players can make the distinction between the character and the background.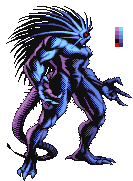 Speaking of Blackheart, here's a frame from his stance animation to help illustrate the point. Although his color scheme is specifically made to leave much of him in shadow, his outline still manages to remain visible despite being on a perfectly black background. While with the exception of Marvel Super Heroes vs Street Fighter's training stage there would never be a background that is completely black, not using a pure black for anything major was a well planned and very deliberate decision on the Capcom artists' part to keep from there being too much visual confusion.
This is not to say that they never use pure black though. you can find it being used within the darkest folds of Gouki's p1 gi colors for instance, as well as within the shadowed areas of Storm's uniform and cape. They basically work as accents rather than full colors in this respect. The important thing to remember is that if you must use a pure black shade for any reason, make sure it is not one of the predominant colors within the sprite.
Update On Color Usage:
It appears that while the general idea of there being a magic number is correct, Guild user sarifFIXIT brought to my attention something which I had overlooked when initially checking for a pattern; whether or not these values I had picked up remained consistent throughout multiple emulators. As it would turn out, comparing the color values obtained through Kawaks to values acquired from Final Burn Alpha and Mame fail to match up. The latter two examples actually would suggest that the magic number is actually 17 instead. This test was conducted by examining color values in SFZ3 A-ISM palettes for Ryu, Ken and Cammy to verify that these alternating values are consistent, indicating that there is still a pattern to adhere to, which appears to be the case. With this in mind, the adjusted values using this new information would look as follows:
From 16 to 17 as magic number:
0	0
16	17
32	34
48	51
64	68
80	85
96	102
112	119
128	136
144	153
160	170
176	187
192	204
208	221
224	238
240	255
Guild user Felineki gives some additional explanation for these values found:
The CPS2 colors are stored in a nibble-per-channel format. Each channel, 
Brightness (used for fading in/out), Red, Green, and Blue can have a value 
of 0-F. When you translate these to the standard one byte per channel format, 
you get the multiples of 17 sarifFIXIT  mentioned. And it can display values of 
0 and F(255). The darkest shade of Akuma's gi in SSF2T is pure black. 
Regardless of the exact magic number, these findings seem to still confirm that Capcom's method of palette adjustment was mostly done through multiplying values rather than random color selection. Whether or not this makes a significant difference when establishing a palette for personal work is a lot more clear cut though; as long as you maintain the pattern, you should be good to go in either regard; it may be somewhat tedious to adjust the values down the line, but switching from 16 to 17 is mostly a palette adjustment via batch process away.
Due to the nature of GIF compression, I cannot recommend at this time using animated gif files you find online for color reference. If you want to get reliable color samples from this style, you need to get unfiltered captures from arcade emulators such as Kawaks, which outputs loss less PNG files. [Update: I have stumbled upon a web site called Fight-A-Base which appears to be suitable for color references after having checked various images to make sure they obey the rule of 16.]
Another possible source for color reference would be from correctly done sprite rips that have not already been indexed. By rips, I refer to entire sprite sets in PNG and PCX formats as opposed to sprite sheets, which are useless outside of general reference material.