Here's a sample I set up over the weekend to illustrate some of the considerations that I personally go through when working something into this style or at least a reasonable knockoff.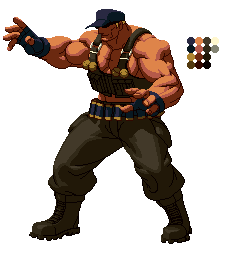 Since conversion is the name of the game here, let's use XII Clark as the example here. I realize that the earlier example makes use of a pre-XII sprite and thus works on a different scale, but I argue that as the scale is doubled only it can still work. Also, my key point about body proportions still stand in both cases, as neither version are a perfect fit for the cartoony style that CvS uses.
Clark's color scheme was broken down to fit the 16 base colors, and the contrast adjusted to something closer to a CvS palette. This means that certain things reuse colors, such as Clark's hair, the yellow of the cartridges on his belt, and the silly tiny grenades.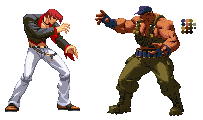 My next step was to bring it down to the intended scale. This was done by measuring things to XII Iori, and then resizing Clark until he stood at around the same difference when compared to CvS Iori. Give or take, this was just a little under half scale from where we started: I think the value I went with in the end was 47% of the original.
While this is a closer fit compared to what we started with, note that Clark is effectively Tizoc sized because of the carryover from his XII proportions. That's honestly a bit much, even if Clark is supposed to be fairly muscular in this new look. He's also too wide still in general, so some slimming is required.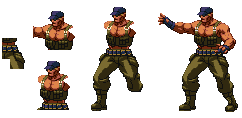 ->

I used both Iori and my earlier resized edit as reference, but opted to scratch sprite Clark in this case. I started building from the upper body down to the legs to establish the height of the character, comparing measurements between the resize and this frame just to make sure things didn't baloon or shrink too much. XII's shading wasn't too far removed, so I caried a number of general elements over in my redrawn frame, but Clark did slim down to more human proportions compared to the original frame. Some additional changes later to palette and shading, and we wind up with the frame to the right.

->

Now let's go with something that is a pulled from KOF classic: Leona in her original look. The sample sprite used here is from Dampir's current resized and slightly edited sff swap in progress. Checking her scaling against Iori in KOF titles, it turns out that Dampir actually got the scale fairly spot on, and at least he made some effort to change the shading on her legs. The arms look close to default though, as does much of the rest actually.
Like the Clark example, I start building up the body in general to get a good size compared to Iori and Dampir's approximation, opting to slim her up a bit. I add on the arms after establishing the rest of the body, since her right arm would be in front of her making it difficult to detail things below it after putting the hand on. I wrap up the sprite by tackling what's left of the hair, putting things into the 16 color limit, changing the palette until I got something that worked, and making a series of changes based off some feedback from a few people on hand. Hopefully you'd agree with me that it is a bit more convincing than the resize and minor reshade that is frame 2.
I do not claim that these are perfect conversions (my own personal touches always manage to creep their way into works,) I can say that with some effort, it's possible to get something that is fresh looking and convincing than what could be gotten with the usual shortcut.