Okay, I could technically have another study on some Fei Long frames I have from one of his win poses, but I feel there is one frame that covers a lot of it at once, plus I'd also like to showcase some other characters at the same time.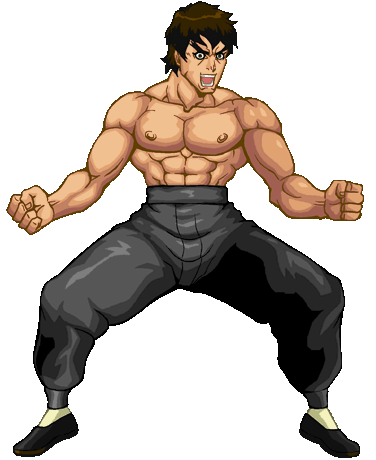 Here's a frame from his other win pose where he is shaking about yelling. First of all, our Bruce Lee clone here has clearly gone insane. I know the original pose has an intense expression to it, but this is not what those frames was showing! That gaping expression which looks like a psychotic smile of sorts definitely was not present in the classic frames, and the now visibly shaken hair is not helping any defense arguments on the martial artist's sanity. (Mind you, the hair being shaken up a bit actually does make sense in this case, so it looks like someone brought some sense to at least part of the image.)
I think I understand why though. He's clearly lost it over his nipple upgrades. He did actually have them in his original frames (a bit of a rarity when it comes to Capcom sprites) but they were much more subtle than you can find in these revamped frames that has them outlined with the darkest skin shade they have.
Speaking of shading, I'm not quite sure what's going on with the left half of Fei's body here. It's noticeably in shadow now especially along the pants, even though the leg position is supposed to have them at around the same level. The original frame did have that half of the body slightly darker, but the key word here is slight.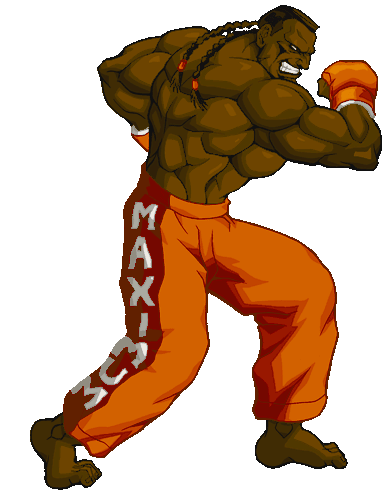 Okay, now going to pick on the 3rd new challenger (I did not realize that a lot of the reference frames I had collected were actually of them) Dee Jay.
I think I'm going to start off on a nice note with the face here. I'm actually going to say I like how the artist's handled it in this case, even if the jaw along the back is a tad large. All in all, not too bad.
The back is another story. I wish I could tell you what was exactly going on there, but I can't even identify everything I'm seeing in that general area. The further you go into his lower back, the more you descend into madness.
The shades of orange and red on the pants get harder to see clearly as you get into the darker shades Not too bad of a problem to fix, except that it seems the last shade is actually tied to Dee Jay's skin colors which would mean changing one also affects the other in some way.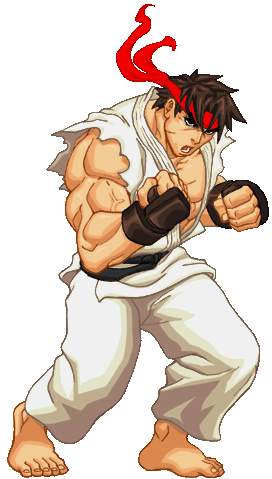 What the hell are you staring at the players for? Your opponent is in front of you, not to your right! As for what's going on with your left foot, I don't even want to guess what happened that resulted in it becoming deformed like that. Speaking of things that just look off, Ryu's left tricep seems to have an additional fold in there that doesn't quite add up. I'm just going to have to chalk this one up to overdone anatomy gone too far yet again...
The silly part about this particular setup is that you know that if Ryu's frames have errors, they are also going to pop up in Ken's frames. (Gouki has a different build in this game, so he gets his own unique set of graphical mistakes.) When from the early progress drawings shown online, Capcom made it apparent that the frames done for the first shoto were being recycled for the training partner. In all of those original drawings, both Ryu and Ken were seen in white gi uniforms and dark brown gloves for a reason; Capcom had taken this practice into the high definition realm!
Here's another note of interest: notice how the transition from one color to the next appears a tad fuzzy? That's because rather than arranging things neatly to a reasonable set of colors, the artists for this game lightly smoothed over the rough edges to give the sense of anti-aliasing but without making the palettes manageable. The color counts range greatly from frame to frame, but the overall color usages surpass 200 colors due to this haphazard way of blending things together. It just seems strange that they would redraw everything just to make a mess of it with a quick fix like this in the end...