Just as the male fighters got a substantial change in style, so did the female fighters. Before I get around to showing the new takes on the current versions of some of these characters, let's take one last look at a few quick samples of Yuri's evolution and King.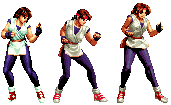 Starting from the 1994 roots of the series, the style would work its way out to still be fairly based in reality, but gain some animated styling to it in the last few years. A tad silly, but not too bad in most cases.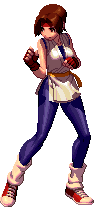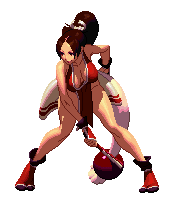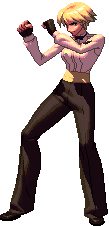 Welcome back, Women's Team. Having been absent in the first revamped game, SNK Playmore quickly showed that the 3 mainstay characters have all made the jump to the new style. I'll only add a few details to my earlier commentary regarding King, as I feel that I covered her in detail for the most part at the tail end of my KOF study. After talking to someone after the fact, it was suggested that at least for the arm in front of King, the width would seem off on account that the arm was crossing in front of her moreso than in her past stances. A possible explanation why was that it could be based off a stance that allows for a spinning strike of some sort, which would fit in with her Muay Thai background.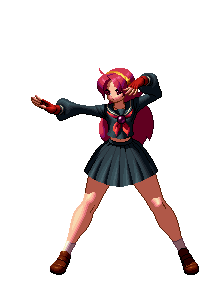 Let me toss in this image of Athena, as the artist's approach to Yuri has a lot in common with what they did to Athena in the first game, although not to the same extreme. Both of these characters have been given more youthful looks this time around, with their general builds now resembling something you could see out of a modern Japanese animated series. Yuri's been given a haircut this time around and is somewhat thinner this time around, which is exaggerated a bit more as her stance has become more narrow as well. What you can't see here though is that the sprite artists have actually done a lot of color separation to her spandex pants, which has been cut up into several different sections allowing for things like bikini cuts, shorts, and leg warmers.
Not to completely ignore Athena as she's already here, but the new art direction saw fit to give her an age regression from the standard models of past years and stick her in a school uniform once more. She's gotten quite a bit chubbier as well, as her face is more rounded and legs are far bulkier than in past games.

*Editor's note: KOD brought to my attention that Athena is actually a retro take on the character, as she and Kensou's XII designs are actually based on their original Psycho Soldier appearances. Note that I still find it strange looking, as the early version of Athena's sprites had her wearing this costume but with her original body build.
Moving onto Mai, she's actually been given a new stance and general set of movements this time around. It's less than subtle fan service here with how prominently her bust is shown off in this particular image, but Mai's always been the fan service character anyway. Her hair seems to have been given a flush cut at the back in this style. The main reason I bring that up is because it's something that gets changed around with some frequency in the official art throughout the years, so it's just interesting to note really. I may need to correct myself on this later, but her design seems to be a call back to her Fatal Fury appearance to some extent, which would make sense as the rest of the Women's Team also seem to be call backs to some extent.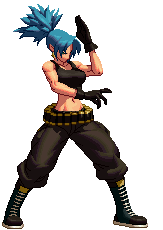 Here's Leona's current design for these new games. As you can see, it matches what had been done for Ralf and Clark and gives the lot of them a unified look. Of the female fighters I've shown here so far, I'd have to say I like her interpretation almost as much as King's, although Leona does have something done to my liking that you won't see in the above sprites. Namely, her arms.
Take a quick look again at the images above, and then back to Leona. Notice that Leona's arms are the only ones so far for the female fighters that have anything above the minimum amount of definition to them. This appears to be part of the art style for this series: unless the character is someone where you would expect some form of muscle mass, they will opt to make use of a sleeker design for the female characters. Because of the military background, it makes sense for Leona to have a more defined build than the others. This treatment won't be common for most of the potential female fighters in the series: the only other one that would probably get more defined arms like this would be Vanessa due to her boxing background.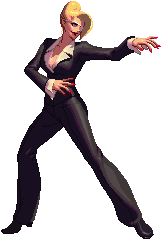 They seriously brought back Mature for XII? Now this was a pleasant surprise. Her appearance seems to be a modified version of what she might have worn while working as Rugal's secretary along with Vice, only with an eye patch that reflects some of the aftermath of working with Iori in the past.
It's a fairly nice remake of the character overall. The suit manages to help disguise some of the qualms I have regarding the new style's treatment of female arms in most cases, and I really like how the light source is played around with in her suit. One of the transition tones deviates from the rest by adding in a warmer red shade before transitioning into darkness, which adds a bit of visual interest to it. If there is anything that bugs me here, it's mostly that her hands come off as a little strange looking at times. The colored nails make such issues stand out more for Mature than it would in other female fighters.
The last thing to note about Mature is that if Vice manages to make a return, you just know that SNK Playmore will give her the Ikari Warriors treatment by having both of them using a similar body and look. Hah.
[Edit] Well, it turns out that Vice did return, and they did exactly what I thought they would. At least she still has her own stance. Hah.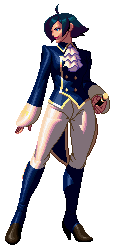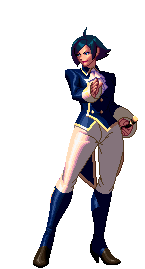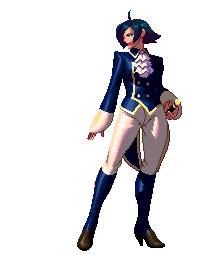 The last of the female fighters I planned on covering is Elisabeth, who's gotten a nice change of clothes for this entry. Proportion wise she's one of the stockier characters shown in this section, which puts her somewhere along the lines of Mature and Mai but without the bust being as prominent as either one. The choice of jacket does the same thing for her arms as it does for Mature in that it gives them a thicker outline to work with that looks better under closer observation.
The palette choices used in her clothing come off very nicely as well. You can tell just from looking that the fabric used in her coat has a glossy finish to it, where things like Mature's suit and Athena's uniform are more muted in their shade difference and thus have a much more matte appearance. All and all, it's a very nice bit of work here.